About Us
Widespread Industrial Supplies, Inc. is a woman-owned, certified small local business enterprise. We are committed to serving the industrial and MRO fields and have been since 2002. As our name implies, we offer a breadth of supplies. Our passion is fasteners but we offer a full-line including cutting tools, electrical, welding, chemical and safety related supplies, as well as hand and power tools.
The right tools for every job, every time.
We take pride in our extensive knowledge of all fastener related items, including various alloy steels and exotic stainless steels on the market. We handle all of your difficult fastener inquires by doing the hunting for you or even the manufacturing if needed! You no longer need to waste countless hours searching for that hard-to-find fastener, tool or miscellaneous part. A simple product description is all we need to get started! We have relationships with more than 1,000 fastener distributors and manufacturers from all over the world. Our mission is simple: If it is made, we will find it. If it can't be found, we will make it. 
Because of our dedication to customer service and product availability we have built relationships with a wide variety of customers, ranging from machine shops to oil refineries. 
We have the right tools for every job, every time. Let us be your one-stop industrial supplier.
Call today 310.793.7315!
In the News
14 December 2021 – Widespread Industrial Supplies, Inc. Awarded a Los Angeles Department of Water and Power Contract
Achievements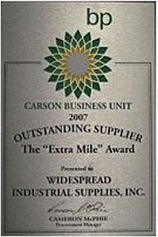 Recipient of the prestigious "Extra Mile" Award presented in 2007 by British Petroleum for being recognized as an outstanding supplier to the Carson Business Unit.